Kids Karate And
Self-Defence Classes
HAITO KIDS Karate and Self-Defence classes in Peterborough have the youngest age group 5 – 10 years old.
Students start by learning how to properly execute a variety of punches, blocks and kicks and how to stand correctly, as well as how to defend themselves in a safe and controlled environment. Learning how to use the most effective techniques for kids self-defence and applying them in different scenarios while practising with each other during the classes. Sensei Gabi teaches kids about the Stranger Danger, escape from different grabs, how to use their voice and how to react in dangerous situations.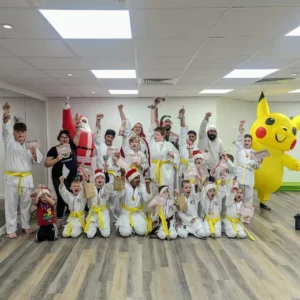 It is important for kids to start to develop their physical, mental and social skills as early as possible. During Karate and Self-Defence classes they can do that better than in any other sport.
While training in Martial Arts kids develop their focus, discipline and self–confidence. Karate for kids also teaches them important values such as respect, responsibility, and teamwork. Students will learn to move their bodies with precision and control, while also developing coordination, confidence and self-esteem.
Sensei Gabi often incorporates games and activities to keep students engaged and motivated, and may also include sparring and other interactive drills to help kids practice their skills.
All students are sure to have a blast while learning valuable Karate and Self-Defence skills!
Do you have questions? It is worth checking out our FAQ page in the link below.
We offer the opportunity to try before you sign up, so you can be sure this is the right fit for your family.
With two locations in Bretton and Hampton, you can find the best time and location that works for you.
And the best part?
You can try out our classes for free before committing to a membership.
Give your child the chance to discover their full potential with HAITO Karate and Self-Defence Club in Peterborough.
Kids Karate Classes
Help to Improve
Respect
Students are taught to respect their Sensei, classmates, and the traditions and techniques of Karate. This respect is demonstrated through proper behaviour and manners, as well as showing deference and regard for others during training.
Discipline
Students are expected to follow the instructions of their Sensei and the traditions of Karate. This includes maintaining proper posture, showing respect to others, and practising self-control. Through disciplined practice, students can improve their physical and mental abilities, as well as gain a deeper understanding of the principles of Karate.
Teamwork
Teamwork is an essential component of kids Karate classes, as it helps students support and encourage each other as they progress in their training. Through regular training sessions and group activities, students learn how to work together, share techniques, and develop a sense of camaraderie. This team dynamic helps to create a positive and inclusive environment, where students can push each other to achieve their goals and improve their skills.
Focus
Focusing is an essential aspect of Karate classes as it allows students to concentrate on their movements and techniques. This mental discipline helps students to develop their physical abilities and improve their overall performance. Focus also helps students to stay present and avoid distractions, allowing them to fully immerse themselves in their training and achieve their goals.